Quorn WW1 Roll of Honour - Walter Daft
Died 20th September 1915, aged 29
Ypres, Belgium

Walter Daft was the youngest of five children of John and Ann Daft (née Sharp). He was born in Quorn, as was his mother. The family lived on Station Road until the early 1900s, when they moved into Quorn Terrace, a row of four new houses on Leicester Road, built by local builder William Fewkes (see photograph below).

Walter's life was very firmly centred around the village. He attended Quorn National School and for some years was a bell ringer at the Church. After leaving school he went to work as a weaver at Wright's elastic webbing factory, which was almost next door.

When war broke out, he and his friend and workmate Ernest Bancroft, were two of the first to volunteer for 'Kitchener's Army'. On Monday 9th November 1914, the two young men went off to Loughborough together and both joined the Leicestershire Regiment, 1st Battalion. They were sent out to France early in April 1915.

After less than six months overseas Walter was killed in Ypres. The War Diary records that on the 16th September 1915 there was a bomb accident, during an hour's instruction on Canal Bank. A bomb exploded whilst being put together, resulting in two men being killed and seven wounded. Walter was one of those injured and he later died. His friend Ernest Bancroft was only 30 yards away from him when the bomb went off. On 24th September the Loughborough Echo reported Walter's death, describing his bright and cheerful disposition and that he was 'esteemed by all who knew him'. Another article on 22nd October quotes from a letter written by one of the Quorn boys, saying that Walter was 'one of the cheeriest fellows in the battalion'.

Ernest Bancroft was killed three months later in December 1915, see Artefact 2338.

Below:
1) Quorn Terrace in the early 1900s. Number 26 where Walter lived is on the far left of the block of four.
2) Walter Daft's grave at La Brique Military Cemetery No. 1, near Ypres in Belgium.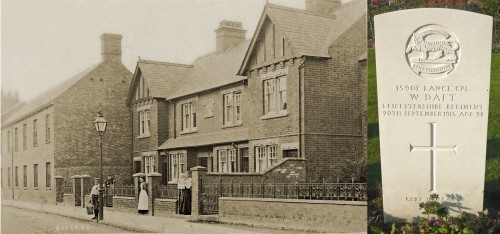 What's New
See what items have been added recently.
Can you Contribute?
We need historical material relating to Quorn village.
Filling in the gaps
Help us with names, places, locations and years.

Artefact Counter
How many artefacts does this online museum contain?

Make a donation
Help to secure more museum artefacts and this site's future.

Contact Us
Have a query? Contact our team and we'll see if we can help.