Quorn WW1 Casualties – Analysed by street
There was not one street in Quorn that did not suffer in some way because of the war. Sadly, some streets seemed more badly hit than others, sometimes with several next-door neighbours all losing a loved son or husband. The graph below shows how the casualties in Quorn were spread over the streets – imagine living on Church Lane, with less than 20 cottages; they lost seven men.

Even though Quorn was regarded as quite a large village in the early 1900s, it was less than half the size it is today, and with less travelling, more people knew each other, worked together, married locally and therefore had more relatives living nearby. There would be more social contact too, as women shopped daily, facilities such as toilets and pumps were shared and there was more general social gathering in Church, Church groups and in pubs. As each young man died, his death would not only affect those closest to him, but the ripples of grief and pain would be felt through large parts of the community.

Of the 78 men from Quorn who were killed, only 13 were married with children, 6 were married with no children and 59 were single.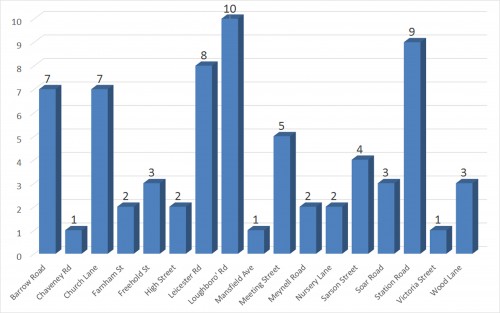 What's New
See what items have been added recently.
Can you Contribute?
We need historical material relating to Quorn village.
Filling in the gaps
Help us with names, places, locations and years.

Artefact Counter
How many artefacts does this online museum contain?

Make a donation
Help to secure more museum artefacts and this site's future.

Contact Us
Have a query? Contact our team and we'll see if we can help.