Quorn WW1 Roll of Honour - Frank Joiner
Died 8th July 1917, aged 22
Metz, France

A childhood in Quorn
Frank Joiner was born in Quorn, the second son of four children of Charles and Elizabeth Joiner (née Fiddler). The family lived on Freehold Street, Quorn, until their world was turned upside down in February 1910, when Frank's father Charles died aged only 41. The two youngest children, Hilda and George, were only 5 and 2 years old, so a lot of responsibility fell on 15 year old Frank and his older brother Charles. In their straitened circumstances the family had to move to a smaller home, and Elizabeth took a job as a charwoman (cleaner). The 1911 census finds them living at what is now 24 Station Road, one of the cottages, next to where Bradley's store is today.

Joining up
When he left school, Frank found work as a bricklayer, but after war broke out, like so many of his friends, he went off to Loughborough and joined the Leicestershire Regiment.

Remembering Frank
In August 1917, Quorn Parish Magazine reported Frank's death:
"Frank Joiner was killed in the trenches by a shell on Sunday, July 8th. He is a communicant member of the Church and was a lad of very steady and regular habits of worship."

He is buried in Metz-En-Couture Communal Cemetery British Extension, Pas de Calais, France.

Below:
1) A photograph of Frank's home on Station Road in the early 1900s. Number 24 is second from the left.

2) One page of Frank's attestation papers, which record that he was of small build, at only 5 feet 6 inches tall and weighing less than 9 stones. The writing will be clearer if you click 'Enlarge' below the image.
In September 1940 the War Office Record Store in Arnside Street, south-east London, was bombed by the Luftwaffe. More than 60% of WW1 army service records were lost, and a large proportion of the rest suffered fire or water damage. The records that were salvaged are known as the 'Burnt Documents'.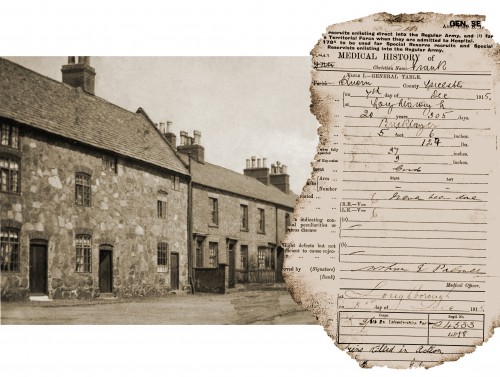 Missing information:
Can anyone provide a photograph of Frank Joiner?
Please email us at: team2022@quornmuseum.com
Submitted on:
2020-01-13
Submitted by:
Sue Templeman
Artefact ID:
2301