Quorn WW1 Roll of Honour - Fred Squires
Died 3rd December 1915, aged 32
Lemnos Island, Greece

Frederick Charles Squires, known as Fred, was born in Quorn in 1883. His parents, Charles and Sarah Ann, moved to Quorn from Woodhouse Eaves in about 1880 and had at least nine children. The family settled on Meeting Street where Charles supported them with his work on the Beaumanor Estate, as a forester and timberman. Sadly in June 1894, their mother Sarah Ann died aged only 50 and then two years later, Charles also passed away aged 48. Fred was only 11 years old when his mother died and his youngest brother was only a baby. Fortunately his eldest sister, Harriett, was 22, and she looked after her younger siblings.

When he left school, Fredís first job was that of a groom for the Quorn Hunt. As he was exercising the horses, his skills as a rider were noticed and eventually he became a jockey which took him to France. When war broke out Fred was forced to return home, and on arriving at Portsmouth decided to enlist and joined the Royal Field Artillery.

Military records show his home address as 64 Station Road and living with his eldest brother Ambrose, however, Station Road was renumbered in the 1960s and number 64 became what is number 76 today.

Fred became a driver in the RFA, which was one of the most important jobs in the unit. The soldier had to be well trained and skilled in riding, controlling and looking after horses. Six horses were usually required to pull the large guns, and they were driven by three drivers, riding the left-hand horse and controlling the one next to it.

The Loughborough Echo for 22nd January 1915 included a piece about the four Squires brothers, because they and their two brothers-in-law (their sistersí husbands), had all enlisted. Conscription didnít come in until April 1916, so this many people from one family, all volunteering so early in the war, was obviously noteworthy.

Fred was involved in the Gallipoli Campaign, which began in April 1915. As the failure of the campaign became obvious, troops were withdrawn from the area between October and December 1915. Fred was in the RFA 60th Brigade and this was one of the later brigades to be evacuated. It seems likely that Fred was wounded, as records show that he died on the Greek Island of Lemnos, which was the hospital base for the Allied forces. He died on 3rd December 1915 and is buried at Portianos Military Cemetery on the island.

Quorn Parish Magazine for January 1916 reported:
ďOne more name too, there is to add to the roll of honour, that of Fred Squires who died of dysentery on December 3rd 1916. He was one of four brothers serving in the Army.Ē

Below is the house where Fred was living when he enlisted, ie 76 (was 64) Station Road
(on the right with a blue door).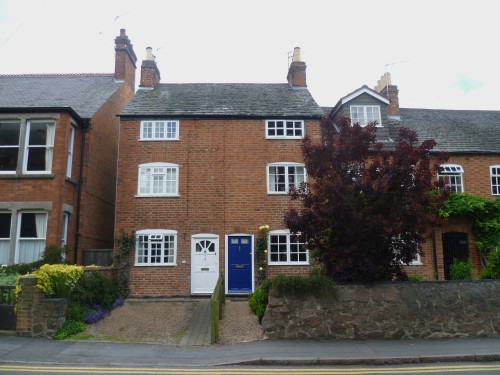 Missing information:
Can anyone provide a photograph of Fred Squires?
Please email us at: team2022@quornmuseum.com
Submitted on:
2020-01-12
Submitted by:
Sue Templeman
Artefact ID:
2283