Postcard – Mountsorrel Quarry 1909
This postcard raises many questions!

It may be asked how a Mountsorrel Quarry postcard belongs in a Quorn local history collection. Certainly these days more than 90% of the quarry is within Quorn parish boundary and in addition it has been a major employer in the area, providing employment for hundreds of Quorn men, for well over 100 years. The quarry has had a significant impact on Quorn, both economically and environmentally.

The subject also raises comment – it is a large rock, surrounded by other rocks.....

The caption reads:
"This stone fell Feb 4th 1909 killed H Neal, Mtsorrell"
Poor Herbert Neal from Mountsorrel was only 17 years old when he died. It does call into question why anyone would photograph the scene and make a postcard from it? Although personal photographs of this period are sometimes printed with postcard backs to them, it is known that this is not the only copy of this card. If you look carefully you can even see the wood that was used to chock the stone up to remove Herbert's body...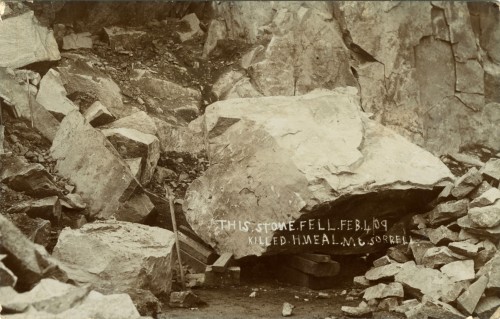 | | | |
| --- | --- | --- |
| | | |
| | Submitted on: | 2018-03-25 |
| | Submitted by: | Sue Templeman |
| | Artefact ID: | 2017 |
| | Artefact URL: | www.quornmuseum.com/display.php?id=2017 |