WW1 Postcard from Quorn
This postcard was sent by Alice Hallam to her brother William, when he was on the Western Front during WW1.
The message on the front reads:

LOVING THOUGHTS FROM BLIGHTY
A loving thought from home
And dear ones far away,
A message o'er the foam,
That bears our love to-day.
God keep you safe
till clouds have passed,
And bring you home
again at last.

William returned safely after the war, but suffered all his life from what would now be diagnosed as 'post-traumatic stress'. Alice was lucky not to lose her brother, but her boyfriend Henry was killed. Even as an elderly lady, it would still cause her pain to talk about it.

Alice and William are shown to the right of the postcard.

The Hallam family lived at 32 Wood Lane for almost 100 years. More can be read about them in artefacts 135, 1868, 1909, 1975, 1976 and 1977.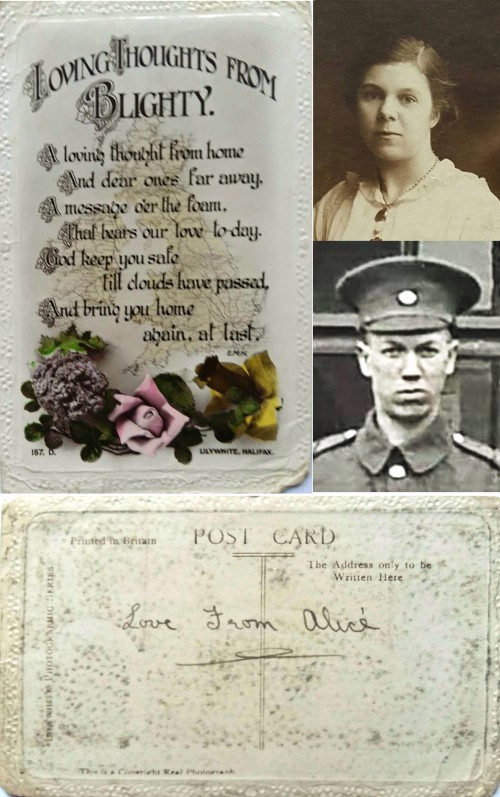 What's New
See what items have been added recently.
Can you Contribute?
We need historical material relating to Quorn village.
Filling in the gaps
Help us with names, places, locations and years.

Artefact Counter
How many artefacts does this online museum contain?

Make a donation
Help to secure more museum artefacts and this site's future.

Contact Us
Have a query? Contact our team and we'll see if we can help.