The White House, Meeting Street – then and now
The White House (101 Meeting Street) is one of the oldest houses in Quorn. The earliest records show that in 1680 it was purchased from John and Joseph Earle, together with two cottages and 154 acres by Samuel Shalcrosse, a wealthy gentleman from Burton on the Wolds. In 1698 Samuel settled his Quorn property on his step daughter, Roe Bonfoy when she married William Stevens.

William and Roe Stevens had many children and made their home in Quorn. When Roe died in 1738, William married Ann, the daughter of Captain Henry and Martha Farnham. Roe and William's son Samuel, married Hannah Sophia Wyld, who was related to another well known Quorn family, the Hydes. Samuel and Hannah lived in Quorn Place (now the Quorndon Fox on High Street). When William died in 1755, the White House, together with other holdings, passed to Samuel and he became one of the principle landowners in Quorn. He received one of the largest allotments of land under the 1763 Quorn Enclosure Act. After Samuel's death his Quorn holdings were divided and finally sold.

In 1910 the White House and the buildings to the rear appear to have been owned by 'The Farnham trustees' and rented out. Later the property was bought by the Gamble family who were builders and undertakers. The undertakers business still operates under the Gamble name, from the rear of the same premises, but in 2008, the White House was sold off separately. It is a grade II listed building and since then has been beautifully and sympathetically restored, under the watchful eye of the local authority and English Heritage.

The older photograph was only taken in the 1980s, but the difference between then and now is dramatic. All rendering and masonry paint was removed from the exterior, which revealed not only the local granite of the taller part of the building, but also timber framing and what appeared to be cobbles and mortar between the wooden frames. The lower photograph was taken before the cobble wall was covered up again.

It is lovely to see this property restored. Quorn has very few timber framed buildings and it is a real enhancement to the street scene.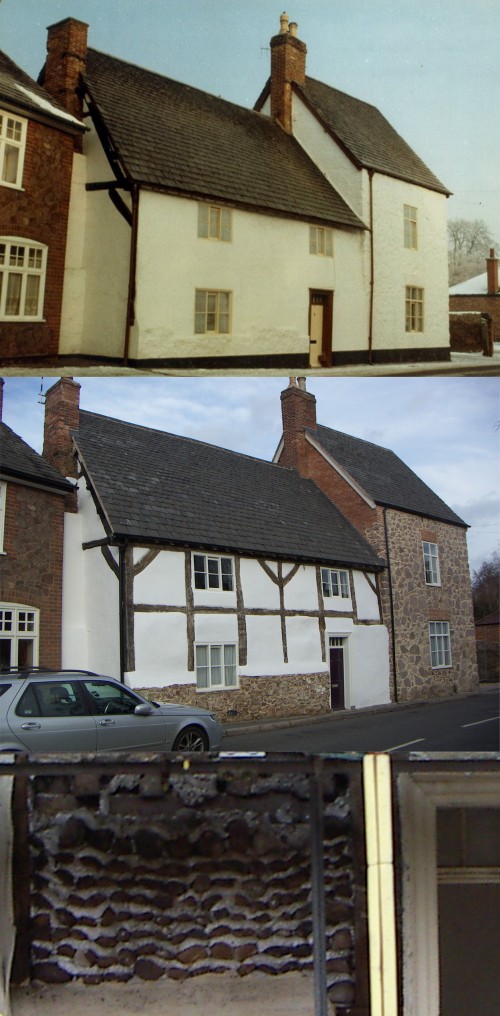 | | | |
| --- | --- | --- |
| | | |
| | Submitted on: | 2011-05-11 |
| | Submitted by: | Sue Templeman. 1980s photograph supplied by Margaret Gamble |
| | Artefact ID: | 1265 |